Raw MDF, MR MDF, FRMDF, and X-Core ®
Raw MDF, or medium-density fibreboard, is both stronger and denser than Particleboard and can be used similarly to plywood. MDF panels are ideal for renovations and furniture. Our raw MDF board comes in a wide selection of sizes. Also available is a Moisture Resistant MDF.
Black Core MDF is a coloured toxin-free MDF with low concentration of formaldehyde (E1 Classification). Any scratches or damages to its surface can be easily repaired. Ideal for Feature Walls, Splashbacks, Toilet Cubicles, Furniture. Available in 12mm & 18mm of 2440x1220 sheet size.
Fire Retardant MDF is available where those projects require a level of Fire Protection. Available in Pink, Black and Natural.
X-Core by Xanita (also known as Xanita Kraft Board) has a high crush strength paper core which is manufactured from post-consumer recycled paper-waste and upcycle agri-fibres. Completedly environmentally sustainable, this board is incredibly strong and the stable closed-cell boasts up to 90 ton per square metre crush strength.
Ideal for Lightweight Build-ups, Doors, Shelves, Furniture, Counter tops, Walls and Ceilings. An ideal product for Timberwood Panels to sandwich between two thin sheets of either MDF, Plywood or Particleboard and then apply a variety of finishes like UltraGloss Acrylic Panels, Laminate, Timber Veneers and Reconstituted Veneers to suit your design.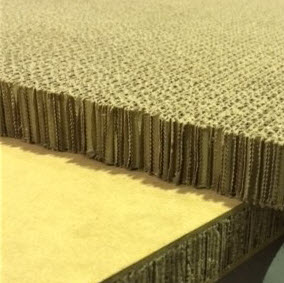 For more information you can download a document below